Finding Qualified Help with Immigration
January 11, 2013
Immigration can be a complicated process. It's reasonable to want help navigating it. And it's vital to find qualified help. But it's equally important to be careful about who helps you. Friends and relatives may offer advice, or a business owner or notario may promise good results for a low fee. Here at the Federal Trade Commission, we hear from people who have gotten bad advice from trusted friends and relatives or who have lost their money to unscrupulous notarios. In the worst cases, they've lost their chance to immigrate.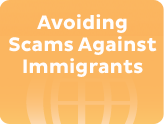 Sometimes, a well-meaning friend or relative translates something wrong, misreads important instructions, or adds — or leaves out — important information. Even more often, so-called experts, often known as notarios, promise to help with the paperwork, and even guarantee results. We hear about notarios who charge their clients and do nothing for them, disappear with important paperwork, turn in the wrong forms, and miss deadlines. 
It doesn't matter whether mistakes in your immigration case result from bad advice from friends, relatives, or notarios. Mistakes can cost you the chance to immigrate.
The FTC has free resources to help you find help you can trust. Visit our website to find out who can help you (and who can't), where to find people qualified to give help, and how to check them out. This help is available in English, Spanish, Chinese, Korean, Vietnamese, and Haitian Creole.