This is National Consumer Protection Week!
March 4, 2013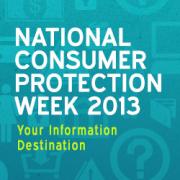 National Consumer Protection Week begins today, and it's the biggest and best NCPW in 15 years. Thanks to 64 federal, state and local agencies and nonprofits that are putting the spotlight on the critical consumer protection work they do year-round, consumers have easy access to a tremendous variety of timely, useful information about recognizing and reporting frauds and scams, managing credit and debt, using technology, and staying healthy and safe.
NCPW.gov is more than a destination for consumer information; it's also a source for outreach tools to share with your networks and communities – both virtual and in-person.  Read the latest news and views from consumer protection experts on our blog; share videos, articles, audio tips, and blog posts; order free resources; or file a complaint.
NCPW only lasts a week, but our website is live 24/7/365.  We hope you'll visit often to stay informed and involved.