Fraud Affects 25 Million People: Recognize Anyone You Know?
April 22, 2013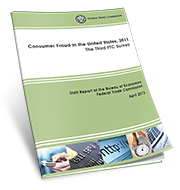 The FTC is always working to know more about the types of fraud being committed and who spends money on them. Consumers provide us with useful information through periodic surveys that ask them to share the important details about their recent marketplace experiences and a bit about themselves. 
Last year, we asked people about their experiences with 17 types of fraud, and learned that nearly 11 percent of U.S. adults, or an estimated 25.6 million people, had paid for fraudulent products and services in 2011. The most-reported frauds involved weight loss products, prize promotions, unauthorized billing for buyer's clubs or internet services, and work at home programs. 
We learned that how people get product information and choose to pay relates to the likelihood they've been defrauded. People who made a first time purchase by internet or telephone after getting a telemarketing call, watching a TV ad or infomercial, or opening a spam email, were three times as likely to be victims of at least one fraud as people who didn't buy in those circumstances.
Those who'd faced a serious negative life event — such as divorce, death of a family member or close friend, serious injury or illness in the family, or job loss — in the two years prior to the survey experienced more fraud than people who hadn't. They experienced nearly four times as much debt-related fraud, three times as many fraudulent prize promotions, and twice as much fraud in general.
Fewer than one in ten (9 percent) of non-Hispanic whites experienced at least one fraud. Among Hispanics, 13 percent experienced at least one fraud; among African Americans 17 did. People age 45-54 were more likely than others — from age 18 to 75+, to spend money on a fraudulent product or service. 
To see what everyone can do to avoid fraud, see 10 Ways to Avoid Fraud and Common Online Scams.