A Guide to Protecting Foster Kids' Credit
May 29, 2013
Every year, more than 26,000 kids in the United States age out of foster care. Remember how difficult it was to navigate through the world when you were 18? Now imagine you had to do it with nearly no support system – and with a mountain of debt in your name, thanks to identity theft.
In 2011, Congress passed legislation to help people in foster care better protect their credit. Now, when foster kids turn 16, child welfare agencies are required to get the kids' annual credit reports. Then, the agencies must help kids clear up their credit, in case of identity theft, so they can better launch their lives as independent young adults.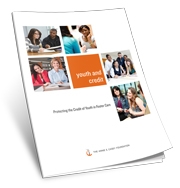 To help these kids, the already-strapped agencies that work with foster youth, and anyone working with or mentoring youth or young adults in foster care, the FTC worked with ChildFocus, Inc., and the Annie E. Casey Foundation to help them produce a free and really useful guide, Youth and Credit: Protecting the Credit of Youth in Foster Care.  
One of the over-arching goals of the guide is youth empowerment: using this opportunity to help young people understand what credit is, why it's important to their future financial stability, and how bad credit can derail their goals. It also gives adults some tools to help kids if their identity has been stolen, particularly because the effects can be both financial and emotional.
The guide includes lots of useful tools and scenarios, along with some very practical advice. I hope you'll check it out. And then I hope you'll spread the word so that more kids start their adult lives without having to dig out of identity theft.