June 28, 2013
If you want easy access to reliable consumer tips and advice while you're on-the-go, check out the Federal Trade Commission's (FTC) new mobile-friendly navigation for our library of consumer information. You'll have ready access to more than 1,000 helpful articles, videos, and audio tips.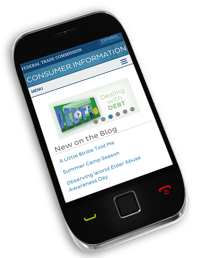 Say you're out shopping for a new washer and dryer and want to better understand those bright yellow EnergyGuide labels attached to most appliances. Simply pull up Shopping for Home Appliances? Use the EnergyGuide Label.
Uh oh. You locked your keys in the car at the mall and need a locksmith. Before you call just anyone, take a few minutes and check out the FTC's practical tips in Finding a Locksmith.
Wi-Fi hotspots — like the ones in coffee shops, airports, and hotels — are convenient, but they often aren't secure. Watch this short video to learn how to help protect your personal information.
That's just a sampling of the mobile-friendly benefits you get from the FTC. You also can stay informed by connecting with us on Facebook, Twitter, and YouTube, and subscribing to our Consumer Blog.
Who knows… maybe Pete Townshend will check us out.