July 25, 2013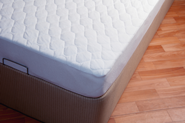 A mattress that's better for you, your baby, or the environment? Sounds great, right? The problem is, it might not be true.
Three companies have agreed to settle FTC charges they claimed their memory foam or natural latex mattresses were free of volatile organic compounds (VOCs), and promoted unproven health and environmental "benefits." VOCs, which are emitted as gases, can be bad for your health and the environment.
In each case, the companies — Essentia Natural Memory Foam Company, Ecobaby Organics, and Relief-Mart — did not properly test their mattresses to back up their claims. What's more, Ecobaby claimed its mattresses were certified by the National Association of Organic Mattress Industry (NAOMI). They were — but NAOMI isn't an independent certification body. It was founded and operated by Ecobaby itself.
So what can you do if you're not sure about a company's claims that its products are a good choice for your health and the environment?
See the science. Historically, memory foam mattresses have emitted VOCs. If a company claims its mattresses or other products are low-VOC or VOC-free, ask them to point you to reliable scientific tests that prove it. For more on VOCs in paint, read Before You Buy Paint.
Check out certifications. Seals or certifications can be useful, but only if they're backed up by solid standards and give you enough information to understand what they mean. A package also should tell you about any connections the company has to the organization behind the seal, if that connection might influence your opinion about the certificate or seal.
For more, read Shopping "Green" at ftc.gov/green.