After a Weather Emergency: Repair or Replace Appliances?
September 5, 2013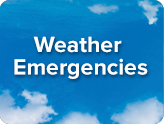 Deciding whether to repair or replace damaged appliances is an important safety issue. Corrosion of clogged parts can cause a fire, explosion or electrical shock.
Before you do anything else, make sure power to the building or to the circuit that feeds your appliances is disconnected. Then unplug them. If power to the building or neighborhood has been shut off, be sure all appliances suspected to have water damage have been unplugged before power is restored.
Consider these factors when you decide to repair or replace your appliances:
Check your warranty. Repairing the appliance yourself may void the warranty.
If the equipment is more than 10 years old, new appliances offer better energy efficiency, saving you money on monthly energy costs.
Check with your insurance company to see if they'll offer an adjusted replacement cost for your major appliances.
Extensive repairs for parts and labor may cost more than buying new.
Refrigerators and freezers with wet insulation are not salvageable; ovens and ranges usually are. Wet controls should be replaced.
Have an appliance technician check and replace the pilot flame orifice and any valves on gas ranges that were in contact with floodwaters.
Have an appliance technician electrician check all electrical contacts and connections on the washer and dryer and replace the contacts or controls if wet.
If an appliance technician tells you that an expensive or major appliance should be replaced, ask for the opinion and replacement cost in writing. Then, talk to your insurance adjuster about the cost.
To learn more about shopping for appliances, read Shopping for Home Appliances? Use the EnergyGuide Label, and visit Dealing with Weather Emergencies.