Do you know how to prepare for a weather emergency? Let the FTC help show you the way
September 26, 2013
September is National Preparedness Month and a good time to prepare your family, pets, and property for extreme weather situations. The FTC has information to help you prepare for, deal with, and recover from different aspects of a weather emergency.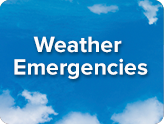 Organize your finances. When it comes to preparing for situations like weather emergencies, financial readiness is as important as a flashlight with fully charged batteries. Having your financial documents up-to-date, in one place, and portable can make a big difference at a tense time.
Check your insurance. Find out if any home, health, or other insurance policy you may have will pay for temporary shelter, replacement clothing, furniture, or other items if you are affected by a hurricane, tornado, or other weather event.
Floodproof your home. If you've been a victim of a hurricane in the past, or you live where storms are likely, your home may be flooded. Prepare for the next flood by buying flood insurance and writing a flood response plan; visit the Federal Emergency Management Agency (FEMA) for more information. And find out whether you can floodproof your home now.
Plan for your pets. If you are like millions of animal owners nationwide, your pet is an important member of your household. Unfortunately, animals also are affected by disasters. A little planning done today can help ensure safety for you and your pets during an emergency like a fire, flood, or tornado.
Bookmark this site. If a disaster affects you this year, return to this site for tips on recovery and information about your rights.
Visit the following sites for detailed tips and information to help you prepare for disasters:
Be prepared. Stay safe.