Guarding Against Identity Theft After a Weather Emergency
September 10, 2013
As you recover from a weather emergency, you will need to share personal information to get relief benefits or replacement identification documents from government agencies and organizations: Be cautious. Identity thieves may pose as government officials or representatives for government agencies. Ask for identification, and when possible, initiate contact yourself using information posted on official websites or in official information dissemination areas.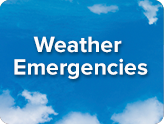 If you find that you inadvertently gave out your personal information to a thief, if your wallet was stolen, or if you are worried that your information may be accessible to thieves, take these steps.
If you inadvertently gave out your Social Security number to a thief or know that it was stolen, you may want to place a fraud alert on your credit reports. Fraud alerts can help prevent identity thieves from opening new accounts. But take note: When you place a fraud alert on your credit file, companies take certain steps to verify your identity before they issue you credit. You may experience a delay in getting credit, especially if you have lost some or all of your identification documents.
If you're concerned that you may be a victim of identity theft, check your credit report. If an identity thief is opening new credit accounts in your name, these accounts are likely to show up on your report. Order your report for free from annualcreditreport.com or 1-877-322-8228.
To learn more about guarding against identity theft and resolving problems, visit ftc.gov/idtheft or call 1-877-IDTHEFT.
For more information to help you cope in the event of a weather emergency, visit Dealing with Weather Emergencies.