Helping Victims of the Flooding in Colorado — Make Sure Your Donations Count
September 17, 2013
It's heartbreaking to see people lose their lives, homes, businesses, pets and livestock to ravaging floodwaters. But it's despicable when scammers exploit such tragedies to tug at your heartstrings and appeal to your sense of generosity.
That's why the Federal Trade Commission, the nation's consumer protection agency, urges you to be cautious of potential charity scams in connection with the ongoing flooding in Colorado.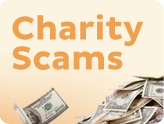 If you're looking for a way to give, do some research to ensure that your donation will go to a reputable organization that will use the money as promised — and as you intend.
Urgent appeals for aid that you get in person, by phone or mail, by e-mail, on websites, or on social networking sites may not be on the up-and-up. Unfortunately, legitimate charities face competition from fraudsters who either solicit for bogus charities or aren't entirely honest about how a so-called charity will use your contribution.
If you're asked to make a charitable donation to support victims of the flooding in Colorado, consider these tips:
Donate to charities you know and trust. Be alert for charities that seem to have sprung up overnight in connection with current events.
Ask if a caller is a paid fundraiser, who they work for, and what percentage of your donation goes to the charity and to the fundraiser. If you don't get a clear answer — or if you don't like the answer you get — consider donating to a different organization.
Don't give out personal or financial information — including your credit card or bank account number — unless you know the charity is reputable.
Never send cash: you can't be sure the organization will receive your donation, and you won't have a record for tax purposes.
Check out the charity with the Better Business Bureau's (BBB) Wise Giving Alliance, Charity Navigator, Charity Watch, or GuideStar.
Find out if the charity or fundraiser must be registered in your state by contacting the National Association of State Charity Officials.
For more on the questions to ask and for a list of groups that can help you research a charity, go to Charity Scams.