Hispanic Heritage Month: Empowering Latino Communities
September 16, 2013
As we kick off Hispanic Heritage Month celebrations, we think of all the wonderful contributions Latinos have made throughout U.S. history. From Civil War Admiral David G. Farragut to union leaders César Chávez and Dolores Huerta, baseball's Roberto Clemente, Nobel Prize winner Severo Ochoa and Supreme Court Justice Sonia Sotomayor, the list of Latinos who have empowered the U.S., and all of its communities, is endless.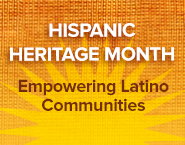 The latest FTC survey indicates that Hispanics are 1.5 times more likely to be victims of fraud. For this reason, during Hispanic Heritage Month we'll be sharing information to help further empower our diverse Hispanic communities to recognize and protect against scams and fraud affecting them most. We'll provide tips to help you avoid common scams and understand your consumer rights. We'll also tell you about the many bilingual resources the FTC has available for free.
A different theme will be covered each week including:
9/23 Protecting Your Wallet – Tips on credit and credit reports, dealing with debt, and avoiding common scams
9/30 Protecting Your Family Online – How your kids can protect their privacy on social networking sites and when they use mobile apps
10/7 Protecting Your Community – Where to find legitimate help with immigration services and how to avoid notario fraud
10/15 Keeping It Simple – Consumer protection basics – in an easy-to-use style
Interested in receiving the latest updates to learn how to avoid consumer scams and fraud? Subscribe to our blog in Spanish or English. You can also follow us on Twitter @laftc (in Spanish) and @ftc (in English).
If you're preparing for Hispanic Heritage Month events there's still time to order free copies of our bilingual materials to distribute at events, clinics, community centers, workshops, and schools. Get them at ftc.gov/bulkorder.
Stay tuned for next week's blog: Protecting Your Wallet. Plus, details about a community Twitter chat on September 26! #FTCcharla