Hispanic Heritage Month: Protecting Your Family Online
September 30, 2013
According to the Pew Internet & American Life Project, almost 9 out of 10 Latino teens have access to the internet. And with tablets and smartphones, they could be online away from your home and your watchful eyes—even the ones in the back of your head.
As a parent, there's a lot you can do to protect your kids online. And you don't have to be tech savvy to do it. Research shows that the best way to protect your kids online is to talk to them. So where can you start? This video helps you talk to your kids about being safe online.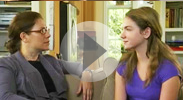 What else can you do to protect your kids when they're online?
Teach your kids that some information is private—and should stay that way.
If you can't pull them away from their tablet or phone long enough to talk to them, send them this video about online privacy.
Tell your kids to stand up to cyberbullying.
The bullying usually stops pretty quickly when they stand up—whether it's for themselves or someone else.
Learn how to protect your child's privacy online.
You have control over the personal information companies collect online from your kids if they're under 13. This article tells you your rights.
Check out and try out kids' apps before downloading.
Before you download an app for your child, check it out. Review the description, check user ratings and reviews, and read outside reviews from sources you trust. Also set a password on your device to restrict downloads and purchases.
Technology is constantly evolving. You might feel like you can't keep up with all the changes. But you can get the latest tips about online safety in Spanish or English on our Facebook pages: Alerta en Línea or OnGuard Online. Or sign up for free email updates in Spanish or English.