Hispanic Heritage Month: Protecting Your Wallet
September 23, 2013
Whether you're setting out on your own or teaching people about financial issues like making and saving money, using credit, or managing debt, it pays to have some everyday strategies.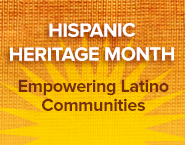 Managing your finances takes time and effort – and can raise lots of questions. That's why we're hosting a Hispanic Heritage Month Twitter chat in Spanish this Thursday, September 26, at 1 p.m. Eastern/10 a.m. Pacific. FTC staff will be ready to take your questions –  in Spanish – about:
Getting your free credit report
Fixing errors on your credit report
Avoiding credit repair scams
Managing debt
Dealing with debt collectors
Avoiding money wiring scams
Submit your questions to @laFTC or use the hashtag #FTCcharla. You also can email us at hispanicoutreach@ftc.gov. If you can't participate in the chat, visit consumidor.ftc.gov for lots of tips and information on how to protect your money.
To get the latest updates on how to avoid scams subscribe to our blog in Spanish or English. Or follow us on Twitter @laftc (in Spanish) and @ftc (in English).