September 23, 2013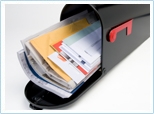 Is it your lucky day? If you've gotten a call or letter saying you've won a big cash prize, and just need to pay a small fee to claim it, maybe not.
The FTC has announced a case against an operation that allegedly sent millions of personalized, professional-looking letters to people saying a cash prize of more than $2 million was reserved, "guaranteed and deliverable," just for them. All the "winners" had to do was return a form with a $20 or $30 acceptance or registration fee. The letters targeted older people in the U.S., Canada, the UK, and dozens of other countries; altogether, the scam took in more than $9 million from its victims.
But there was no prize, the FTC says. In fact, the hard-to-see fine print said the company doesn't sponsor sweepstakes or award prizes at all, and is instead in the business of compiling a report of available sweepstakes. But there's no evidence that people who paid got even that.
Still hoping for your golden ticket? There's no need to give up sweepstakes altogether. Here's what you should you know to avoid a prize scam:
You shouldn't have to pay
Legitimate sweepstakes won't make you pay money or buy something to enter or improve your chances of winning. That includes paying "taxes" or "shipping and handling charges" to claim a prize.
The prizes aren't so great
If you do pay to redeem a prize, you'll find it isn't worth much or the "vacation" is anything but luxurious. You may end up paying far more than the prize is worth, if you get a prize at all.
Many prize promoters sell the information they collect to advertisers
When you sign up for a contest or drawing at a store, a mall, or another public place or event, instead of a prize, you could get more promotions in the mail, more telemarketing calls, and more spam email. So even if it takes a magnifying glass, read the fine print. That's often where promoters hide the details about their business practices.
Read Prize Offers for more.