Get Ready for Tax Identity Theft Awareness Week
November 27, 2013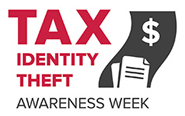 Like helping people avoid scams? Then you might like to know that the FTC has named Jan. 13-17 Tax Identity Theft Awareness Week, and will host national events like a webinar and Twitter chat, in English and Spanish, as well as regional events.
Tax identity theft is the most common form of identity theft reported to the FTC. It happens when someone files a phony tax return using your personal information — like your Social Security number — to get a tax refund from the IRS. Tax identity theft also happens when someone uses your Social Security number to get a job or claims your child as a dependent on a tax return.
You can help spread the word a number of ways — post a blog or article with helpful tips, host your own event, or tweet about the week. You'll find all you need at ftc.gov/taxidtheft.