Shopping for Just the Right Gift
December 20, 2013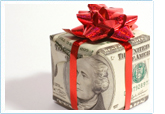 The clock is ticking, and you're on the hook to find just the right gift this holiday season. Perhaps you're shopping at the last minute; maybe the giftee is really picky; or, if you're like I am, maybe you just don't feel like dealing with wrapping paper! Regardless, a gift card or certificate may seem like a great solution: it's a quick buy for you and it presents plenty of options for that person on your list.
Take your pick: choose among traditional gift cards from retailers and restaurants, bank gift cards that can be used anywhere the brand is accepted, e-gift cards, and certificates from promotional coupon sites. As you go shopping for gift cards, remember to read the fine print before you buy. Yeah, time is precious and you may not have enough of it to read the details, but there are a few important things to look for:
is there a fee to buy the card?
are there fees when someone uses the card?
is there an expiration date?
are there rules about when and where someone can use the gift card or certificate?
There could be additional restrictions if you buy gift certificates on promotional coupon sites. Say you buy a gift for a friend on a promotional coupon site — $15 for $30 worth of food at a particular restaurant. The promotional value of $30 may expire in a few weeks, but the certificate still may be worth $15 for another year. Maybe there are other limitations: for example, the certificate might be good only Mondays through Thursdays for lunch at a specific location. Would your friend be able to use the certificate for the full value under the circumstances?
If you're buying a gift card in a store, inspect the card before you pay. Check that none of the protective stickers have been removed, and that the codes on the back of the card haven't been scratched off to reveal a PIN number. If something looks off, let the merchant know and grab a different card.
Just FYI: vendors go out of business, whether they're online-only companies or long-standing brick and mortar stores. If you buy a card from a company that happens to be on the verge of going out of business, the card may be worth less than you anticipated — or worthless altogether. I just found a gift card to a bookstore that went bankrupt; I'm using the card as a bookmark!
Along with the gift card, give a little extra — some good advice about using gift cards effectively. And don't forget to give the giftee the original receipt, too. It will help them verify the purchase in case the card is lost or stolen. Meanwhile, here's to a happy and stress-free shopping experience for all!