An In-App Surprise: How to Lose Hundreds in 15 Minutes
January 15, 2014
Update (3/27/14): Apple will notify people about how to get refunds by April 15. The settlement requires Apple to provide full refunds for in-app charges made by kids without parental permission.
Quick: name a way your kids could rack up hundreds of dollars in charges in under 15 minutes without you being the wiser.
One answer: through an app on your iPhone or other Apple device.
Today, the FTC announced that it has reached a settlement with Apple, resolving allegations that the company didn't get parental consent for many of the charges racked up by their children in kids' games.
Many kids' apps offered through Apple's App Store allow "in-app purchases," where kids can spend real money — billed to their parent's iTunes account — on virtual goods like pet food for virtual pets or game currency. According to the FTC, in addition to not realizing kids could spend real money, many parents didn't know that entering a password once would approve a charge and open up a 15-minute window in which kids could make unlimited purchases.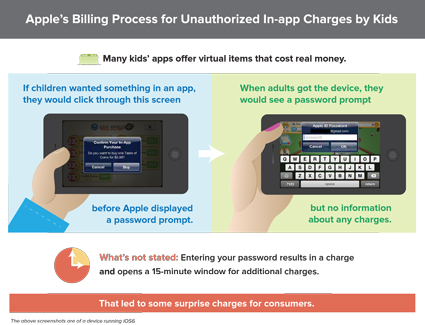 If finalized by the Commission, the settlement will require Apple to provide full refunds to consumers, upon request, for in-app charges made by kids without parental permission. We'll post more information here about how to contact Apple to get a refund after the Commission issues a final order.
So what can you do to make sure you don't open up an unexpected line of credit for your kids in the app store?
Read about the app before you download it
That includes the store description and user reviews, keeping an eye out for any mention of in-app purchases. You also can look at outside reviews from sources you respect.
Consider turning off in-app purchases
Go to Settings-->General-->Restrictions-->In-App Purchases and change it to off. Note that the first time that you go into Restrictions, you will have to press "Enable Restrictions" and set a passcode for Restriction settings.
Consider turning off the 15-minute window
If you're using an Apple device, know that entering your password opens a 15-minute window where your kids are free to spend. To turn off the window and require a password for every charge, go to Settings-->General-->Restrictions-->Require Password and change it from "15 minutes" to "Immediately."
Play the app with your kids first
What better way to know if an app will allow in-app purchases than to see it for yourself? Talk to your kids about the fact that buying gear and other things in games could cost real money.
For more on keeping up with kids' apps, check out our infographic and read Understanding Mobile Apps.