January 23, 2014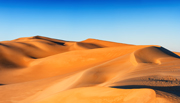 A dune buggy struggles near the top of a steep sand dune — some optimistic off-roader clearly overestimated what it could do. But wait — a Nissan Frontier suddenly zooms up the hill and powerfully pushes the buggy over. It's amazing — even the people standing there can't believe it! No really, they can't. Because it didn't really happen, the FTC says.
According to the FTC's complaint, the reality behind this YouTube-style ad that touts the power of the Nissan Frontier is that the buggy and truck were pulled up by cables, and the steep dune was made to look much steeper than it was. But a lot of viewers wouldn't know that, the FTC says.
The FTC has reached a settlement with Nissan North America and its ad agency, TBWA Worldwide. The proposed settlement forbids Nissan from misrepresenting any feature of its pickups through a test, experiment, or demonstration. The order against TBWA bans similar misrepresentations for any pickup.