National Taxpayer Advocate: Help Is Available for Victims of Identity Theft
January 14, 2014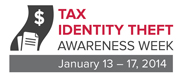 When identity thieves target taxpayers to obtain improper tax refunds, it causes serious consequences for the victim and for the IRS. The IRS is taking steps to make it more difficult for perpetrators to successfully file falsified returns using others' personal information (prevention) and to make it more costly if caught doing so (deterrence). But as the voice of the taxpayer, my focus is on IRS's victim assistance to those who find themselves impacted by identity theft.
If you are a victim of identity theft and believe your federal tax account has been compromised, please click on this link to learn how to report the incident to the IRS: www.taxpayeradvocate.irs.gov/Individuals/Identity-Theft. If you are experiencing economic harm or you're not satisfied with the assistance provided by the IRS, please contact your Local Taxpayer Advocate (click here for a full list of TAS office locations: www.irs.gov/uac/Contact-a-Local-Taxpayer-Advocate).
The IRS has made some improvements to victim assistance in recent years. For example, victims who substantiate their identity and address will be issued an Identity Protection PIN. This unique number must be used in conjunction with the victim's SSN (or ITIN) in future years; the IRS will delay processing of returns filed without this IP PIN to protect taxpayers from being victimized again.
In the National Taxpayer Advocate's 2013 Annual Report to Congress, I included identity theft again as one of the most serious problems facing taxpayers. Because identity theft is an invasive crime that can have traumatic emotional impact on its victims, I believe the IRS should model its centralized identity theft unit after its innocent spouse unit that assists taxpayers who may have been victims of domestic abuse. Most importantly, there should be one IRS employee assigned to interact with the victim and maintain control of the taxpayer's case (including all peripheral issues stemming from the identity theft). You can read my report on identity theft here and my full Annual Report here.
Nina E. Olson, the National Taxpayer Advocate, is the voice of the taxpayer before the IRS and Congress.