Network of ID Theft Victim Assistance Coalitions – Here to Help
January 16, 2014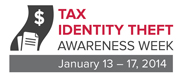 Being a victim of identity theft can be complicated and frustrating. While it may take time to figure out what happened and begin to fix the damage from this crime, there are programs and trained victim service providers available to help you through the process. 
According to a national survey by the Bureau of Justice Statistics, about 16.6 million persons, or 7% of all U.S. residents age 16 or older, were victims of one or more incidents of identity theft in 2012. About 36% of identity theft victims reported moderate or severe emotional distress due to the incident, with direct and indirect losses from identity theft totaling $24.7 billion.
The FTC tells us that in 2012 tax identity theft accounted for more than 43 percent of the identity theft complaints they received — nearly twice the number in 2011. These numbers are staggering — the losses felt by victims can be too.
That is why, as part of its mission to enhance the nation's capacity to assist crime victims, the Office for Victims of Crime (OVC) developed the National Identity Theft Victim Assistance Networks Program (NITVAN). This compassionate group of trained professionals, located in state and community-based coalitions across the nation, is dedicated to improving the response to victims of identity theft — including victims of tax identity theft.
NITVAN has helped to improve the ability of each of their coalitions' members to provide direct victim assistance services, such as emotional support, practical guidance, and information, and they can assist victims to find local agencies that offer legal and other direct assistance to victims of identity theft as needed. 
In addition to the NITVAN network, OVC provides free online training for victim service professionals to serve victims of identity theft more effectively and assist with their financial and emotional recovery.
To contact your local NITVAN program for assistance, visit www.identitytheftnetwork.org.
If you think your tax refund has been stolen, the NITVAN website outlines steps you can take at www.identitytheftnetwork.org/gethelp/taxidt.
OVC, within the U.S. Department of Justice, supports a broad array of programs and services that focus on helping victims in the immediate aftermath of crime and continuing to support them as they rebuild their lives. For more information on OVC, please visit www.ovc.gov.