Who's Watching Tax Preparers?
January 15, 2014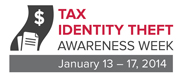 Have you ever wondered how ID thieves get their victims' personal and financial information? One way you may not have thought of is dishonest tax preparers. Each year, Treasury agents investigate allegations of criminal misconduct by tax preparers — a group that plays an important part in our nation's tax system.
During the past several years, my agents have investigated and worked with Department of Justice attorneys to prosecute tax preparers who sold their clients' personal and financial information to criminals. These tax preparers abused the trust their clients placed in them to protect their sensitive information from tax-related identity theft.
Tax identity theft is a serious and sizeable problem. It costs our nation an estimated $3.6 billion a year. We want to hear from you if you think you may be a victim of tax identity involving:
a tax preparer who discloses client information to help others commit identity theft
an IRS employee who either discloses tax information or participates in the criminal activity
someone who impersonates the IRS (using logos/emblems/emails) as part of the identity theft scheme
Call our office at 1-800-366-4484 or visit us at www.treasury.gov/tigta.
If you are looking for a tax preparation service this year, take the time to check reputation and qualifications. Don't trust anyone with your sensitive information until you have assurances that they will treat it with the safeguards it deserves.