Another chapter in free grant fiction
February 20, 2014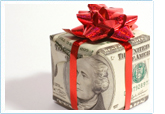 Free grants for regular people? The chance at some string-free money might seem like a godsend. But promises of free grants are just another scam to get your money.
That was the case with Cash Grant Institute, the FTC says. In fact, the man behind the scam — Paul Navestad — was ordered to pay more than $20 million. But he didn't. So today the FTC announced that a federal judge has ordered Navestad to be jailed until he pays up. 
Here's the backstory: Cash Grant Institute told people they'd already qualified for grants — up to $25,000 — that were readily available from federal, state, and local governments, private foundations, and wealthy individuals. But the grants didn't exist, the FTC says. Instead, people were sent to sites that charged them for general information about getting grants. Even after paying, very few people qualified for any kind of grant, and those that did found it was a long, difficult process.
If that wasn't enough, Cash Grant Institute also was a massive robocalling scheme, making more than 8 million robocalls — almost a third of them to numbers on the Do Not Call Registry.
In addition to the importance of filing a complaint about illegal robocalls, here's what you need to know:
Don't give out your bank account information to anyone you don't know
Don't pay any money for a "free" government grant
Know that scammers can fake phone numbers to look like they're calling from Washington, D.C.
A real government agency won't ask you to pay a processing fee for a grant you've already been awarded, or to pay for a list of grant-making institutions. The names of agencies and foundations that award grants are available for free at any public library or on the Internet. The only official access point for all federal grant-making agencies is grants.gov.
If you think you've been a victim of a grant scam, file a complaint with the FTC at ftc.gov/complaint. You also can report it to your state Attorney General. Read Government Grant Scams for more.