New report highlights alcohol industry efforts to reduce advertising and marketing to teens
March 20, 2014
Did you know that alcohol companies have voluntary guidelines for where they place ads? 
For example, alcohol companies agree that they will advertise on television programs and websites where at least 70% of the audience is comprised of people 21 and older, based on reliable data.
But do they really keep their promises?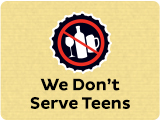 According to the FTC's fourth study on Alcohol Advertising and Industry Efforts to Reduce Marketing to Underage Audiences, they do! In fact, more than 93% of the ads were placed in compliance with the guidelines, and more than 97% of the consumer alcohol ad exposures were due to ads that complied with the guidelines. The study also looks at where alcohol marketers focus their advertising dollars, product placement in movies and videos, and privacy practices. The study commends the alcohol industry for raising its placement standard from 70% to 71.6%, and makes recommendations for improvement of the voluntary guidelines.
Industry members and communities concerned about teen alcohol use can take advantage of the free We Don't Serve Teens alcohol education materials available from the FTC. Help us spread the word! Download our free materials in English or in Spanish, and find out what to say to friends and neighbors about serving alcohol to teens. You can also learn about individual state laws, the rates and risks of teen drinking, and tools to help you enlist the support of local organizations and the media to reduce underage drinking.