Financing a car? Ask about pre-payment penalties.
April 4, 2014
If you're in the market for a new or used car, you may be considering financing options. For example, you might get a loan from a bank or use dealership financing. In either case, you'll have to sign a contract that specifies the terms, including how much money you owe and what your payments are.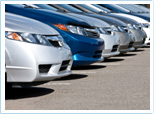 Remember that the terms of this contract have a big impact on the total cost of the car. For example, a five-year contract may have lower monthly payments than a three-year contract. But your total cost will be higher. Use this worksheet to compare offers with different terms.
When considering a contract, here's one question that's well worth asking: Can I pay off the debt early without paying a penalty? The answer depends on how the contract is structured. Before signing any paperwork, it's important to know if the terms call for simple interest or pre-computed interest.
Simple interest is calculated based on the amount you owe: The quicker you pay it off, the less interest you'll pay.
Pre-computed interest is a fixed amount, calculated and added at the beginning of the contract. Even if you pay it off early, you still pay the interest in full. If a refund or rebate of interest is included in your agreement, you may get back some of the interest you paid — but not all of it.
Pre-payment penalty is another term to watch for. Banks and finance companies sometimes require borrowers who pay off a debt early to pay a fee.
When negotiating terms, ask about a simple interest contract with no pre-payment penalties. Shop around and compare offers from dealerships with offers from banks or credit unions.
And remember that even if your contract allows you to make extra payments, there may be a special process to do so. Before sending any extra money, contact the company's customer service department and ask about the process for making a principal-only payment. Otherwise, your extra payment might not be credited properly to your account.
Be sure to make your scheduled payments on time until you have paid for the car in full. Making payments late has consequences: late fees add up and late payments can affect your credit. When you believe you've paid every dollar you owe, ask for a written statement that says so.