It's not your day in court
April 1, 2014
"Hereby you are notified that you have been scheduled to appear for your hearing that will take place in the court of Tallahassee in April 02, 2014 at 09:00 am." Signed, the Clerk to the Court.
Sound official? Like the fake funeral notices we wrote about recently, emails like this have been going around trying to convince concerned — or curious — people to click on the supposed "court notice."
Don't do it.
Scammers send convincing-looking fake emails like this with links or attachments they want you to click. When you do, you could download malware onto your computer.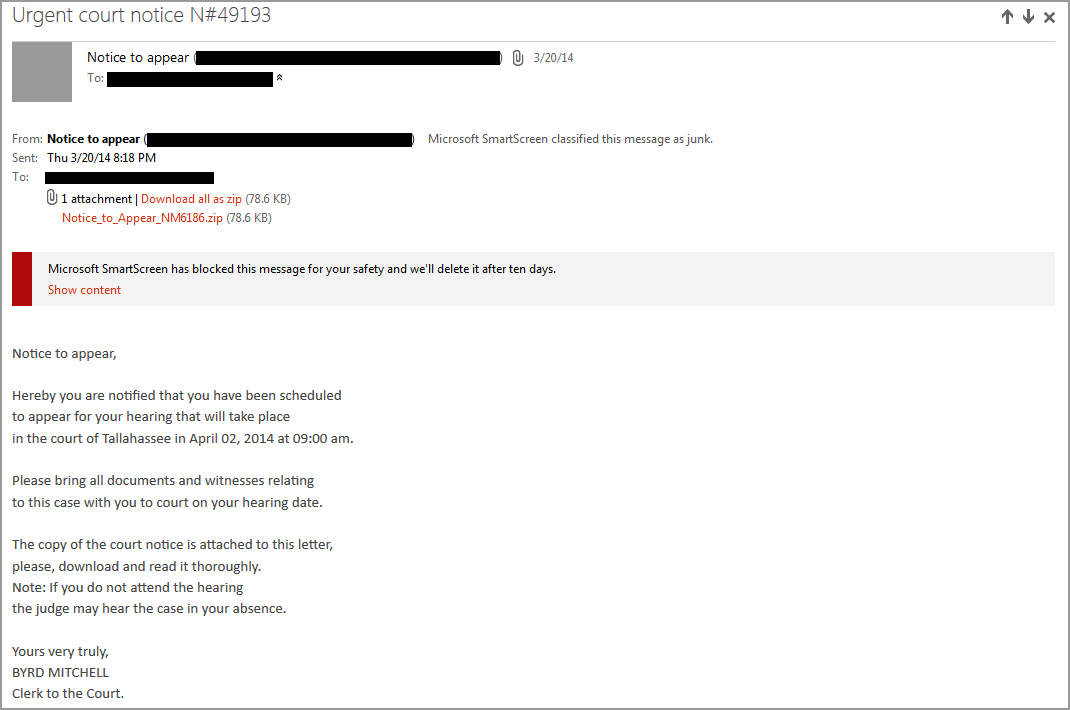 Malware is short for "malicious software." It includes viruses and spyware that get installed on your computer, phone, or mobile device without your consent. These programs can cause your device to crash and can be used to monitor and control your online activity. Criminals use malware to steal personal information, send spam, and commit fraud.
If you get an unexpected email like this, delete it. Don't click on any attachments or links. If you're not sure whether it's real, you can always contact the court, company, or agency it claims to be from directly.
But what if you already clicked on the attachment?
Stop shopping, banking, and doing other online activities that involve user names, passwords, or other sensitive information.
Update your security software, and then run it to scan your computer for viruses and spyware. Delete anything it identifies as a problem. You may have to restart your computer for the changes to take effect.
If your computer is covered by a warranty that offers free tech support, contact the manufacturer.
If you can't solve the problem on your own, consider hiring a company — some are affiliated with retail stores — that offers tech support on the phone, online, at their store, and in your home.
For more, read Malware and follow these computer security practices.
Last but not least — if you're been targeted by a phishing email like this, forward it to spam@uce.gov. If you might have already been tricked by a phishing email, file a complaint with the FTC at ftc.gov/complaint, then visit the FTC's Identity Theft website. Victims of phishing could become victims of identity theft, and there are steps you can take to minimize your risk.