Spring Cleaning and Earth Day
April 18, 2014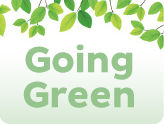 Earth Day is April 22 – and thoughts may well turn to spring cleaning. Maybe you're ready to brighten your home with a fresh coat of paint. Maybe your garden can use a little pruning. If you want supplies or paint that are better for the environment, chances are you'll rely on advertising for information about the products you choose. The Federal Trade Commission requires truth in advertising, including green advertising. That means companies need solid evidence to back up the environmental claims they make about their products.
Here's what some of those claims mean:
Marketers who say a product is "free of" an ingredient should be able to prove the product doesn't have any more than a harmless trace amount of it or any other ingredient that poses the same kind of risk.
Marketers who say a product is "non-toxic" should have proof that the product is safe, both for humans and the environment. If it's safe for humans or the environment, the product or package should specify.
You may see products labeled "low-VOC" or "VOC-free" VOC stands for volatile organic compounds — chemicals found in paint, household cleaning products, and floor polish, among other products. VOCs are emitted as gasses and may cause smog or have negative effects on your health. While a base paint may be low-VOC or VOC-free, the colorant that a store adds may not be. In fact, tinting can significantly boost the VOC level of paint, depending on the color you choose. So if the presence of VOCs influences your paint choice, look for both low-VOC base paint and low-VOC colorant.