It's getting hot out there…
June 20, 2014
It's plenty warm in much of the country, signaling the official start of the summer. Need some ideas on how to make the price tag linked to hot weather burn a little less? We've got some tips for you. 
If you're in the market for a new air-conditioning system or appliances, look for the EnergyGuide label attached to most appliances. The label explains how much energy an appliance uses, and makes it easier to compare to similar models. Think about it this way: the more energy efficient an appliance is, the less it costs to run, and the lower your utility bills might be. You also could save money by asking your local utility salesperson about cash rebates, tax breaks, or other incentives for buying energy-efficient products. Learn more at energy.gov/savings.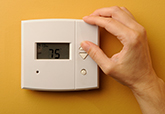 Of course, small savings can add up, too. Try bumping up the temperature before heading out of your home for the day. You might consider buying a programmable thermostat that changes the temperature automatically, so it's one less thing for you to remember. Drawing the curtains and closing the blinds during the day also might keep your home from heating up as much. And remember to check your air-conditioner filters to see if they need to be cleaned or replaced.
Depending on where you live, radiant barriers could help you save money in the long run. Radiant barriers can be installed in your attic, and can help reduce air-conditioning costs in the summer by reflecting radiant heat instead of absorbing it. Check out the radiant barrier calculator and our information on home insulation to see if it makes sense for you. And remember that installing radiant barriers won't help reduce cooling costs in all climates, and won't reduce heating costs in the winter.
Want to know more? The Department of Energy has additional resources at energysavers.gov, and we've got more ideas for you at ftc.gov/green. Here's to staying cool this summer — without breaking the bank!