Government imposters' tricks revealed in full color
July 17, 2014
As part of our ongoing effort to raise awareness about scams targeting the Latino community, we've developed a new publication about government imposter scams. Impostores del Gobierno is our first Spanish-language "fotonovela" and we hope we can count on you to help us distribute it.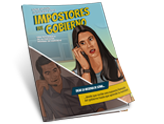 Impostores del Gobierno tells the story of a young woman who responds to a call from a man who claims to be from the government -- and who convinces her to send him money. The plot is based on real complaints to the FTC from Spanish speakers throughout the nation, and offers practical tips on how to tell when a phone call, text or email is from a government imposter:
If you get a call from someone who says they work for the government and you won money in a "grant", lottery or contest, it's a scam. The government doesn't call you on the phone or send you an email or text to give you money.  
If anyone tells you to wire money or use a pre-paid card to claim your "prize," it's a scam. If you have to pay, it's not a prize – it's a purchase.
The booklet is in full color and fits in a purse, backpack or messenger bag.  It is now available in print and online. Order as many copies as you can use — for free — at ftc.gov/fotonovela. If you'd like to distribute the booklet at your 2014 Hispanic Heritage Month events, please place your order before August 15.