July 10, 2014
Ready for a discussion that's likely to upset the whole family? First, explain these concepts to your four-year-old: online shopping accounts that are linked to your credit card, unlimited in-app charges, and store policies that state all sales final. Then, explain how the virtual coins your child uses in a game can cost real money charged instantly to your account. Sounds like fun, right?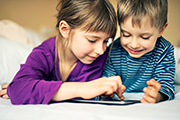 The experience has been anything but fun for parents whose children racked up hundreds of dollars playing "free" games on the Kindle Fire. According to the FTC, Amazon allowed kids to buy virtual goods — like coins, stars, and pet food — without getting parents' permission. The FTC is suing Amazon and seeking refunds for parents and other account holders who were billed for unauthorized charges.
Many moms and dads complained that they didn't know — and their kids didn't understand — that kids could spend real money, billed to the parent's account, for extras that cost anywhere from 99 cents to $99 each. The FTC's complaint highlights internal communications in which Amazon employees stated that allowing unlimited in-app charges without a password was "clearly causing problems for a large percentage of our customers," adding that complaints from customers were reaching "house on fire" levels.
And yet, for over a year, many in-app purchases on the Kindle Fire didn't require a password or otherwise involve parents in the purchase process. Even when Amazon finally began requiring a password for certain in-app charges, the company didn't make it clear that entering a password once could allow children to incur unlimited charges for fifteen minutes to an hour without further parental involvement.
The company's stated policy is that all in-app charges are final and nonrefundable. According to the complaint, parents who sought an exception to that policy faced a difficult and confusing process.
If you're a parent who was shocked to find in-app purchases charged to your Amazon account without your permission, contact the FTC at ftc.gov/complaint.