Order free consumer resources for your Hispanic Heritage Month celebration
August 12, 2014
The calendar says August: time for TV re-runs, back-to-school sales and the beginning of the futbol season. It's also time to start planning for Hispanic Heritage Month.
The FTC has free resources to help people learn their rights and avoid fraud. Not sure where to start? Try some of our most popular publications. They're about scams, online safety, identity theft, scams against immigrants, and managing your money.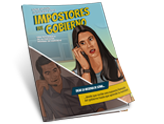 Our new fotonovela, Impostores del Gobierno, follows the story of Sonia, a young woman who gets a call from a man who claims to be from the government — and convinces her to send him money. You'll learn how to tell when a phone call, text or email is from a government imposter and why wiring money to someone you don't know is a bad idea. 
Get this handy bookmark with important numbers and websites from the FTC. It'll help you find out how to sign up for the Do Not Call Registry and report a scam.
Wondering how you can protect your kids online? Read Net Cetera: Chatting With Kids About Being Online. Want your kids to learn about socializing safely online? Give them Heads Up: Stop. Think. Connect.
Identity Theft: What To Know, What To Do tells you how to safeguard your personal information. If you have kids, check out Safeguarding Your Child's Future for tips on how to protect their identity from thieves.  And order the identity theft bookmark: although it's pocket-sized, it has lots of practical tips.
Help people avoid scams that target immigrants and find help with the immigration process with a wallet-sized foldout flyer.
And  if you're looking for tips on managing your money, order this one-page flyer to learn how and why to make a budget and this budget worksheet to track your spending.
These free materials, and many more, are available in English and Spanish at ftc.gov/bulkorder and ftc.gov/ordenar. Delivery takes three to four weeks, so order your materials now to make sure you get them in time for your Hispanic Heritage Month celebration.
When you get your brochures and bookmarks, share them with your friends and family, or distribute them in your neighborhood, at local businesses or at the library. You might want to use them to write an article for your organization's newsletter or blog, or email tips from consumer.ftc.gov/blog to your co-workers or email distribution list.
Want to stay connected with the FTC?