Is your shopping buddy app-y?
August 1, 2014
A good shopping buddy has a sharp eye, knows the lay of the land, and can find the best deals on the products you want. A great shopping buddy might even share coupons with you.
Millions of people have found new shopping buddies — their smartphones. Shopping apps for use in brick-and-mortar stores have been downloaded millions of times.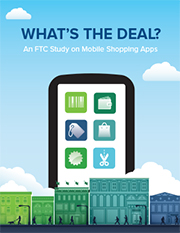 Today, the Federal Trade Commission released a staff report looking at some of the most popular apps that allow consumers to compare prices across retailers, collect and redeem deals, or pay for purchases while shopping in brick-and-mortar stores.
FTC staff looked at what information consumers could learn about these apps before downloading the software on their mobile devices.  Staff sought to learn how shopping apps operate, how they deal with unauthorized transactions or billing errors, and what information they collect and share about users. Here are some of the key findings:
Some apps are called "pass through" — they charge your card or bank account each time you buy something. Others let you store value with the app and spend from the stored value every time you buy something.
According to the report, user agreements for shopping apps generally offer few promises that the app company will help if you have a problem, like an unauthorized charge. In fact, some user agreements claim the company doesn't have to take responsibility for any problems. The company may behave better than that, but there are no guarantees. If a shopping app passes charges through to your credit card, your liability should be limited to $50.
Shopping apps also may collect information about the things you buy, including how much you paid, when, where and how you paid. This information, combined with other personal data companies collect, may allow them to develop a detailed profile of you or make assumptions about you. Many of the privacy policies for mobile apps studied by the FTC allowed the app company to share users' data with other companies, like advertisers, data brokers or credit reporting companies. Look for apps that tell you what they do with your data.
If you think an app doesn't do what it claims, or doesn't live up to its privacy promises, you can report it to the FTC. To learn more, read Apps to Help You Shop in Stores.