Hispanic Heritage Month Begins
September 11, 2014
The FTC joins with other federal agencies to celebrate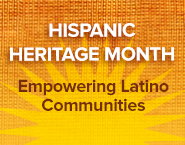 Hispanic heritage from Sept. 15 – Oct. 15 during our nation's official Hispanic Heritage Month. But the FTC uses enforcement and education every day, all year long, as part of its mission to protect all consumers from unfair and deceptive practices in the marketplace, online and off. We use our enforcement authority to stop scams that target Spanish speakers, whether they involve fraudulent marketing practices, illegal debt collection practices, false advertising claims, or identity theft.
We deliver free information in Spanish on a wide range of consumer issues, in a variety of formats. Our resources in Spanish help Latino consumers recognize government imposters, protect their computers from malware and their personal information from phishing attempts, and avoid income scams.  We invite you to take a look at our Spanish-language resources, share them with your networks, and comment on our blogs. You'll find:
At the same time, the FTC wants to hear from you, in Spanish, online or by phone (1-877-FTC-HELP) about your consumer experience. Your complaints can help investigators detect trends and patterns in the marketplace, as well as companies that may be acting illegally. Here's a video in Spanish about how to report a scam or file a complaint. Share it with others in your community. If you want to see the video in English, go here.
This Hispanic Heritage Month, check out our materials in Spanish at https://www.consumidor.ftc.gov and order free print copies to distribute at your events. Then, stay connected by email all year by signing up to get scam alerts, blog posts and news releases in Spanish at www.ftc.gov/es/conectese  or following us on Twitter @LaFTC.