Let's talk about online safety
September 15, 2014
The new school year is in full swing and National Cyber Security Awareness Month is around the corner. What better time to talk to the kids in your life about online safety. Many of our readers are doing just that — and using Net Cetera: Chatting with Kids About Being Online as the basis for the conversation.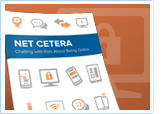 Over 1 million copies of the new Net Cetera have been distributed throughout the U.S. since January 2014. Time and time again, our readers have told us they think Net Cetera is a valuable tool.   
Teachers, counselors, media specialists, parents, and grandparents have told us they're using tips from the booklet when discussing online safety with kids, and sharing copies of Net Cetera at PTA and Scout meetings. School districts — including some that are launching 1:1 laptop or tablet programs — tell us they're sending a copy home with each child. Libraries and community centers say they're stocking their shelves with Net Cetera; police officers have let us know they're distributing copies at community events and conferences; and companies and organizations have ordered copies for their employees.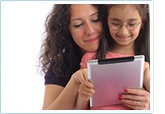 Why is Net Cetera so popular? We think it's because it offers practical and value-neutral tips on important issues like cyberbullying, sexting, computer safety, parental controls, mobile apps, and public Wi-Fi. It also covers rights and choices parents have in protecting their kids' privacy online under COPPA, the Children's Online Privacy Protection Act. 
Order as many copies of Net Cetera as you need from ftc.gov/bulkorder, and you'll get them within 4 weeks.
We hope you'll let us know how you're using Net Cetera! Check out the Net Cetera online toolkit for ideas.