These online high schools didn't make the grade
September 19, 2014
Looking for a way to get your high school diploma or a college degree online? You'll want to read this.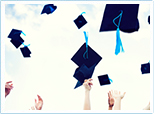 Today, the FTC announced a case against several companies that sold fake high school diplomas online. The companies claimed you could become a high school graduate and earn an "official" diploma by paying $200 to $300 in fees and taking their online multiple-choice test. They also promised you could use these online diplomas the same way you would use a traditional diploma or a GED®: to apply for jobs, enroll in college, and "receive the recognition you aspire for in life."
However, the FTC charged that getting a diploma from Jefferson High School Online or Enterprise High School Online was not the same as earning a traditional high school diploma or a GED® certificate. According to the FTC's complaint, people who used these diplomas to try to get into college, apply for jobs, or enlist in the military were turned down because their diplomas were not valid; neither Jefferson nor Enterprise was a legitimate or accredited online school, and the diplomas they offered were worthless.
While many online schools provide legitimate degrees to students, others are selling sham degrees. Diploma mills exist solely to make money, not to provide an education. And many bogus degree programs have well-designed websites, familiar sounding names, and fake testimonials to seem legitimate.
How can you tell if you're dealing with a diploma mill? Ads might say that the program:
charges you a flat fee for the degree
offers a degree in a few months, weeks, or even just days
requires little or no course work, and no interaction with teachers
offers a degree for your "work or life experience" alone
Before you pay for a credential, do a little homework that goes beyond the organization's own website. Search for reviews of an online high school or college and for the organization's name on the Better Business Bureau site. You might find some valuable insights from others. If you're looking specifically for an online college degree program, check the Department of Education's Database of Accredited Postsecondary Institutions and Programs to see whether the school is accredited.
For more details, check out our article on diploma mills, as well as information provided by the Department of Education. And if you think you've dealt with a diploma mill, we want to hear about it at ftc.gov/complaint.