Ad for Gerber baby formula: Deceptively cute
October 30, 2014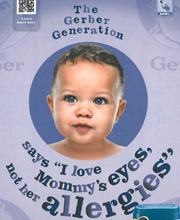 You want the best for your baby. So when you see an ad for formula that claims to help reduce the risk of your child developing allergies, you might be willing to give it a try. Well, hang on to your wallet.
In its ads for Gerber Good Start Gentle, the company states, "You want your baby to have your smile, your eyes… not your allergies. Gerber Good Start Gentle [is] easy to digest and may also provide protective benefits for your baby."
Does that mean that by using Good Start Gentle you can reduce the risk that your baby will develop the same allergies you may suffer from? Not quite, says the FTC.
In fact, an investigation by the agency concluded that Good Start Gentle hasn't been shown to reduce the risk of developing most allergies; it may lower the risk of developing one specific condition, atopic dermatitis due to milk allergy — sometimes known as baby eczema. So the FTC filed a complaint, saying Gerber's Good Start Gentle ads were deceptive because they made general allergy claims. 
Wait, there's more: canisters of Good Start Gentle sported a gold label indicating it was the "1st and only routine formula to reduce risk of developing allergies." In some of its ads, Gerber also used this gold badge touting Food and Drug Administration approval:

The FTC says Gerber was making a play on the word "qualified" to mislead consumers about the FDA's real assessment. The FDA said the relationship between Gerber's formula and reduced risk of atopic dermatitis was "uncertain" because there was "little scientific evidence" to support it. So, far from finding this formula worthy of any gold badge, the FDA allowed Gerber to discuss atopic dermatitis only if its claims were highly "qualified" to show the limited science supporting the claim. While I love good wordplay, this twist on the word "qualified" isn't so clever — the FTC says it's misleading.
Whether you're shopping for baby products or buying something for yourself, keep in mind that some companies may overstate claims in their advertising. It can be tricky, but think critically when you see ads or labels that make scientific or medical claims. Check out our featured health information to learn more about decoding ads for health-related products.