AT&T's $105 million "cramming" settlement leads to refunds
October 8, 2014
Ongoing efforts by the FTC and its federal and state partners to stop mobile cramming have resulted in a whopping $105 million dollar settlement with AT&T — the biggest to date with a prominent mobile phone carrier. Even better news for affected AT&T customers? They might be eligible for a refund. 
According to the FTC, AT&T Mobility, LLC allegedly charged consumers' mobile phone bills for third-party subscriptions or services that they never ordered or authorized. Many consumers weren't aware they had been paying — up to $9.99 per month — for seemingly random horoscope text messages, flirting tips, celebrity gossip, wallpaper or ringtones that showed up on their phones.
How were consumers supposed to know about the charges? According to the FTC, AT&T didn't make it easy. The complaint alleges the phone bills sent to consumers were deceptive because the company lumped together all the charges to make it look like everything was related to AT&T's mobile phone services. So when a consumer saw the overall balance due, the hidden charges were hard to detect. Even consumers who regularly checked their phone bill line by line every month missed them.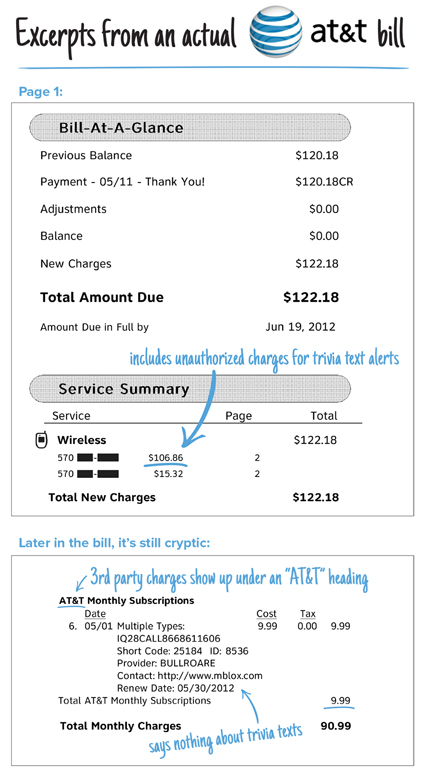 So what's the bottom line for AT&T consumers affected by the settlement?
AT&T will make sure from now on that they have your consent before billing you for third-party charges. 
If you contact AT&T about unauthorized third-party charges on your bill, they will provide a refund unless the company has information you consented to the charge.
AT&T will continue offering consumers the option to block all third-party charges. Other phone carriers, not just AT&T, offer third-party blocking service for free. Ask your phone carrier about services to block these charges.
Consumers can find out more information about the refund process and submit claims by visiting FTC.gov/att. Unsure if you are eligible for a refund? Contact the FTC's refund contractor at 1-877-819-9692 for more information. And remember, the FTC never requires consumers to pay money or give financial information to get a refund check.