Operators of bogus business opportunity ordered to pay back $25 million
October 22, 2014
If you're looking to run your own business, you might be tempted by ads that claim you can buy into a ready-made business opportunity and make a lot of money. But some companies touting big earnings are promising more than they can deliver, and the FTC is taking action to stop them.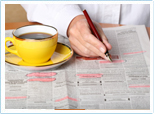 As a result of a recent FTC case, a court ordered The Zaken Group, operators of a bogus business opportunity, to pay back more than $25 million to customers and banned them from selling business opportunities. According to the FTC's complaint, Zaken claimed that they would help customers find businesses looking to sell their excess inventory and would work with customers to find buyers for the inventory. They also told customers they would make at least $4,000 in the first 30 days – and that the average deal would yield more than $4,200.
Once customers paid a fee of $148 – sometimes more – they were inundated with pitches for more "business tools" costing hundreds or thousands of dollars more. Customers who paid the additional amount didn't hit pay dirt. Instead, they got a directory of phone numbers for companies that had gone out of business. According to the court, more than 110,000 people bought into this bogus business opportunity and "99.8 percent" of them didn't make any money.
So how can you evaluate a business opportunity before you buy? Ask the seller to give you a one-page disclosure document. Sellers are required by law to give you the disclosure document so if they refuse, don't pay them any money. It must include a list of references and other key information about the business. If the seller makes any claims about how much money you might make, they have to give you a separate paper with more details about those earnings claims.
Watch this video to learn what questions to ask to determine if a business opportunity is a scam or the real deal.
And if you think a seller of business opportunity is breaking the law, report it to the FTC.