Phone scammers lie about getting money back
November 20, 2014
Ripping off older people puts you in a special category of low-life scam artists. What about ripping off older people you know have already fallen for a telemarketing scam? That makes you a first ballot selection for the Scam Artist Hall of Shame. According to the FTC, that's exactly what Consumer Collection Advocates did.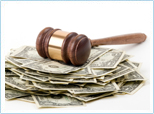 The company ran a phone scheme that targeted people, many of them older consumers, who previously lost money to timeshare resale or precious metal investment scams. They told fraud victims they could recover 60 percent or more of the money they had lost. Just pay 20 percent now and another 20 percent when we recover the money, the callers said. People paid hundreds and in some cases thousands of dollars hoping to recoup some of their losses. In the past year alone, consumers paid Consumer Collection Advocates almost $1.3 million – and most didn't get anything in return.
The FTC announced that it temporarily stopped the scheme and has asked a federal court to put this scam out of business forever.
If you lost money to a scam, don't believe anyone who promises they can get your money back if you pay them an up-front fee. That's against the law. Report them to the FTC at ftc.gov/complaint.
Learn more about scams offering to get your money back and subscribe to get free scam alerts from the FTC.