Say no thanks to charity cheats
November 21, 2014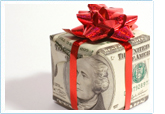 As fall weather cools down, plans for Thanksgiving and the charitable giving season are heating up. Here come the requests for donations — in your mail and email, in person, on social networking sites, through your mobile devices — you name it. Want to express your thankfulness with a gift to a charity? Find an organization that spends wisely on a cause you support, and screen out any requests scammers send your way.
If you get a request from an unfamiliar group:
Double-check the group's name to see if it's legitimate. A scammer may use a name that looks or sounds like a reputable organization and hope you won't catch it.
Go to the group's website to see how it spends its money. Some charities use money effectively to support their missions; others spend a large share on fundraising or administrative costs.
Look into the group's mission. An organization with the word "children" in the title might support research about children, give books to children, or work with kids locally or internationally. Find a charity that supports the issues that matter to you.
See what others say about the organization. The Better Business Bureau's (BBB) Wise Giving Alliance, Charity Navigator, Charity Watch, and GuideStar rate charities.
Use this Internal Revenue Service (IRS) site to see if the organization is eligible to receive tax-deductible contributions.
Say 'no' if anyone asks for money, but:
refuses to give you full details about the group's identity, mission, costs and how it will use your donation
uses high-pressure tactics, like trying to get you to donate immediately, before you can do research or think it over
asks you to send cash or use a money transfer
promises to enter you in a sweepstakes or give you a prize for donating.