Does that ABC app track your child?
December 22, 2014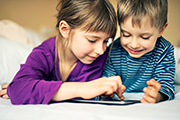 Your young child is playing an educational app with cute cartoon characters. It's teaching her letters, shapes, and numbers. But did you know that while your child is learning her ABCs, someone else could be learning where your child is?
The FTC just sent a warning letter to a major early childhood software developer based in China, known as BabyBus, because its apps appear to collect precise geo-location information. That means BabyBus knows exactly where your child is when she is playing their game. And there's nothing stopping them from sharing that with advertisers. All this happens without your consent. 
That's not just creepy, it's illegal. The Children's Online Privacy Protection Act (COPPA) requires developers of apps that are marketed to children under age 13 to provide notice to parents and get their consent before collecting your child's personal information. That includes geo-location information. The FTC's letter urges the company to review its compliance with COPPA and states that the FTC will be revisiting its mobile apps again in the next month.
BabyBus markets more than sixty free mobile apps to children between the ages of one and six. The apps use cartoon characters to teach children, letters, counting, shapes, music, and matching. The apps are available on iTunes, Google Play, and Amazon Appstore for Android.
So, what's a parent to do? If you're looking to download an educational app for your child and don't want one that tracks your child's location, here are some tips: 
Before you download an app, read the description, content, user reviews, and privacy policy.
Check what information the app collects. Look at the app's permissions to see if the app shares location, photos, contacts or other personal information. If it does and you don't want your child's personal information shared, then don't download that app.
Do research on the app developer, including outside reviews from sources you respect.
For more information, check out 6 Timely Tips for Using Apps with Kids.