We Don't Serve Teens — even on New Year's Eve
December 30, 2014
What are your plans for New Year's Eve? Maybe you're watching the ball drop in Times Square on TV, having a get-together at home, or going out for a night on the town. Whatever your plans are, let's make sure that those under the age of 21 ring in the new year without alcohol.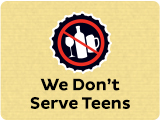 Unfortunately, most teens report that it's easy to get alcohol. They get it from friends or family members, at parties, or by taking it without permission. Many teens can get alcohol without paying for it, and those who pay for it usually give money to someone else to buy it. No matter the circumstance, providing alcohol to anyone under 21 is unsafe, illegal, and irresponsible.
We can reduce teen drinking by stopping easy access to alcohol — on New Year's Eve and throughout the rest of the year. Check out We Don't Serve Teens to learn more. And have a safe and fun New Year's Eve!