Shutting down an income scam
January 13, 2015
We began 2014 by announcing that a court ordered Oro Marketing to temporarily shut down operations for bogus business practices. This phone fraud targeted Spanish-speaking Latinos, promising them packages of high-end goods that they could – supposedly – re-sell to make extra money. The company charged between $400 and $490 for the packages, but only delivered low-quality, off-brand products that were impossible to sell. According to the FTC, no one made any money – except the defendants, who misled people to steal their money.
Now, at the start of 2015, we are announcing that the FTC reached a settlement with Oro Marketing that bans company and its mastermind from doing business in the telemarketing industry.
The Oro Marketing lawsuit is the basis for the FTC's fotonovela, a Spanish-language graphic novel called Estafa de Ingresos, or income scams.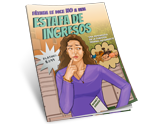 Our heroine, Fátima, gets targeted by a Spanish-speaking scammer who promises high-end products at low prices, and tells her it's a great way to make extra money. But, when the products arrive, she can't inspect them – and cash or money order payment is required right away. Readers learn with Fátima how to spot the signs of an income scam.
Estafa de Ingresos is part of the FTC's fotonovela series, a campaign to help Spanish speakers avoid frauds targeting their community. We also want to tell people how to file a consumer complaint with the FTC, which helps investigators catch and stop the bad guys. To order free copies of Estafa de Ingresos, visit ftc.gov/bulkorder. Estafa de Ingresos is available only in Spanish. You can find information in English on avoiding work-at-home scams and business opportunities scams at ftc.gov/bizopps.