A story in Spanish about debt collection rights
January 20, 2015
When it comes to dealing with debt collectors, you have rights. That's why the FTC created a new publication called Cobradores de Deuda. This Spanish-language graphic novel tells people about the rules for debt collectors, and what to do if a debt collector doesn't follow the rules.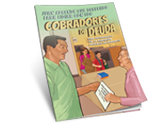 When we first meet our hero, Juan, he's dealing with some questionable debt collection tactics – some of the same problems consumers tell the FTC about. Through this graphic novel, or fotonovela, Juan's experience helps readers learn their rights – all explained through colorful drawings and simple dialogue in Spanish. Readers of the fotonovela will learn that debt collectors:
can't call before 8 a.m. or after 9 p.m.
can't harass you – for example, they cannot curse at you or threaten to hurt you
can't lie to you or make up consequences if you don't pay the debt
can't tell anyone else about your debt – only your spouse and your attorney
can't call you at work if they know your employer doesn't allow these calls
Cobradores de Deuda is part of the FTC's fotonovela series, a campaign that promotes consumer education and protection in the Latino community. Previous issues focused on government imposters and income scams. You can order all three free publications at ftc.gov/bulkorder. You also can see, read and download them at ftc.gov/fotonovela.