Free TV – but what's the catch?
March 11, 2015
You've seen the attention-grabbing ads. Get DIRECTV's satellite TV packages for as little as $19.99 a month for a year! Throw in HBO and Showtime – "free for 3 months." It's enough to make you "ditch cable now" and head straight into orbit with satellite TV. But before you pop the corn and head to the couch, listen to this. The FTC says DIRECTV didn't give consumers the whole scoop and their viewers got stuck with charges they didn't know about or approve.
The FTC has charged DIRECTV with deceptive advertising for claiming consumers could sign up for a discounted 12-month service contract but never revealing some key conditions: DIRECTV required consumers to commit to a two-year contract – and during the second year, they hiked up the monthly fee. If you wanted to cancel before the end of the contract, you faced some pretty big cancellation fees, up to $480.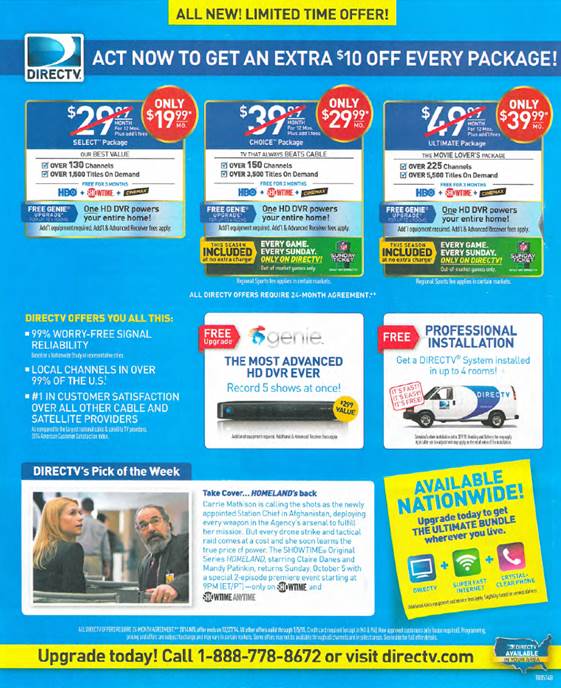 Adding insult to injury, that "free for 3 months" offer for HBO or other premium channels was really a negative option. If you didn't remember to cancel before the end of the trial period, DIRECTV signed you up and billed you for the premium channels – which cost around $48 per month. According to the FTC, DIRECTV typically enrolled consumers into the promotion without clearly telling them that they needed to cancel before the end of the trial to avoid being charged. 
Whether or not you ditch cable now, you should check out the details of any deal. When it comes to free offers, do some research.
What's the buzz? See what other people are saying about a company's free trials — and its service. Complaints from other customers can tip you off to "catches" that might come with the trial. Search the name of the company and "complaint" or "review."
What are you getting? Find the terms and conditions. If you can't find them, or if you can't understand exactly what you're agreeing to, don't sign up.
Watch out for pre-checked boxes. If you sign up for a free trial online, look for already-checked boxes. That checkmark may give the company the green light to continue the offer past the free trial or sign you up for more products — only this time you have to pay.
Mark your calendar. Your free trial probably has a time limit. Once it passes without you telling the company to cancel your "order," you may be on the hook for more products.
What's your exit strategy? Look for info on how you can cancel future shipments or services. If you don't want them, do you have to pay? Do you have a limited time to respond?
Read your credit and debit card statements. That way you'll know right away if you're being charged for something you didn't order.