Background check check-up
April 2, 2015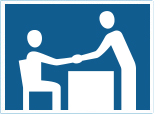 If you're applying for a job — or trying to keep one — a background check may be in your future. So check out the FTC's newly revised Background Checks brochure for answers to common questions:
Are employers allowed to do background checks? Yes, but there are limits. For example, potential employers can't ask about medical information until after you get the job. And they can't treat you differently because of race, national origin, color, gender, religion, disability or age (if you're 40 or older).
Can I refuse to let an employer do a background check? Yes, you can. But if you do, then the employer may reject your application.
How do I know if an employer is doing a background check on me? Before conducting a background check, an employer must tell you in writing and get your written permission. The employer can't hide the notice in the middle of a long document.
Is there anything I should do before an employer does a background check? Before the employer does a background check, get a free copy of your credit report at annualcreditreport.com. Then you can correct any mistakes in your credit report before the employer sees them.
What if an employer doesn't give me a job because of something in my background check?  Employers have legal obligations if they make a decision against you based on information in your background check report. 
Before the decision, the employer must give you a copy of the report and a Summary of Rights that tells you how to contact the company that provided the report. That way, you can make corrections and give the revised version back to the employer.
After the decision, the employer must tell you that it rejected you because of information in the report. It must again give you contact information for the company that provided the report and tell you that you can dispute the accuracy of it.   
If you think an employer may have broken the law, Background Checks explains where to go for help. The FTC has more information on background checks for consumers and for businesses.