Can debt collectors message you for money?
May 21, 2015
It could start with an unexpected text message or email like this:
ALERT! YOUR PAYMENT FOR $$
IS SCHEDULED FOR 6/19/15
CALL XXX-XXX-XXXX
Hold on. The message is a lie. You don't have payment arrangements with anyone. So who's messaging you for money?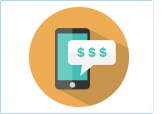 It could be a debt collector. But it's illegal for them to send texts or emails that trick or harass you into contacting them so they can collect money. By law, debt collectors have to tell you who they are, no matter how they contact you.
Today, the FTC announced Messaging for Money, a sweep of law enforcement actions against three debt collection companies. According to the FTC, when these companies texted, emailed or called financially distressed people, they didn't say that they were debt collectors. In some instances, they pretended to be attorneys or government agencies to trick and intimidate people into paying. These companies, say the FTC, also used abusive texts, emails and phone calls to falsely threaten people with lawsuits or arrest.
No matter how a debt collector communicates with you about a debt, they have to play by the rules. That's the law. You have rights. If you think a debt collector has violated any of your rights, the FTC wants to hear about it.
For more information about managing your finances, check out Dealing with Debt, as well as Money & Credit.