May 4, 2015
Did you know that May 3-9, 2015 is Privacy Awareness Week? It's an initiative of the Asia Pacific Privacy Authorities Forum.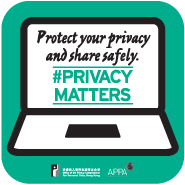 Privacy Awareness Week highlights the importance of protecting your personal information. This year's theme is Privacy Matters — a message we promote year-round at the FTC. Whether you're at home, work, school, or a doctor's office — there are things you can do to help keep your information private and safe.
Here's an idea: make one change this week to protect your personal information. And use #privacymatters and #2015PAW to share these tips with your friends and family on social media:
You also might be interested to know about the FTC's involvement with cutting-edge privacy issues. Earlier this year, we published a report on the Internet of Things, which recommends ways to protect your privacy in a world of more and more interconnected devices. In the coming months, the FTC will host public workshops to examine privacy issues raised by the sharing economy and cross-device tracking. Check out the FTC's Events Calendar for more information.
Have a great Privacy Awareness Week, and remember that privacy matters throughout the whole year.
Asia Pacific Privacy Authorities (APPA)
Formed in 1992, APPA is a forum for privacy, security and data protection regulators to collaborate and exchange ideas. For more information about APPA and Privacy Awareness Week, visit www.privacyawarenessweek.org.