July 13, 2015
School's out and your kids have days overflowing with fun and free time. You might be at the amusement park concessions while they're riding the SuperVomitron Adventure Ride. Or maybe they're at the pool bellyflopping with friends. Whatever the kids are up to, many parents like being able to stay in constant contact by getting them a mobile phone. If so, it's time to teach them to think about safety and responsibility when using it.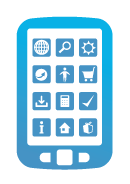 Talk to your kids about your rules for when and where it's appropriate to use their phones. Do you allow calls or texting at the dinner table? Should they give you their cell phones when they're supposed to be sleeping, or – when school's back in session – while they're doing homework? Talk to older kids about the dangers and consequences of distracted driving – and set an example for them. And encourage them to treat others the same way they want to be treated.
Here are a few other things to consider before you get them connected.
All the bells, buttons and buzzers? Decide on options and features for your kid's phone. For younger kids, you might consider a cell phone designed especially for children – ones that have features like limited internet access, minute management, number privacy and emergency buttons. Are you app-ehensive about apps and what kids might find online? Choose a phone with limited internet access, or you can turn on web filtering.
Location, location, location. GPS technology allows kids to reveal where they are. Some carriers let parents map their kid's location or find their phone if it's lost. Advise your kids to use these features sparingly and only with friends they know in person and trust. Explain that they don't want to broadcast their location to the world, 24-7.
Share with care. Encourage them to think about their privacy and get the okay of the photographer or the person in the shot before posting videos or photos. It could be embarrassing and even unsafe. Filters you've installed on your home computer won't limit what kids can do on a phone. 
Learn more about kids and mobile phones.