FTC celebrates Hispanic Heritage Month
September 30, 2015
During Hispanic Heritage Month, we celebrate the heritage and culture of Hispanic communities across the country, and recognize their many contributions to American life. At the FTC, we join the celebration as we work to combat deception and fraud in marketplaces targeting Hispanic communities.
With an estimated more than $1 trillion in buying power, the Hispanic community is a growing market – and it's no surprise that ads and marketing campaigns often target this community. But ads and marketing practices, whether in Spanish or in English, must comply with the FTC Act: claims must be truthful, cannot be deceptive or unfair, and must be based on evidence. 
In fact, we've recently held some companies accountable for their ads in Spanish:
TracFone Wireless – The company behind the brand Telcel America, which marketed to Spanish-speaking consumers, must pay $40 million in consumer refunds. This settles FTC charges that the company deceived consumers when it advertised prepaid mobile plans for "unlimited" data that turned out not to be unlimited.
L'Oréal  – The cosmetics company is prohibited from making unsubstantiated claims in its ads for the Génifique and Youth Code product line after it settled FTC charges that the ads made deceptive anti-aging claims in English and Spanish.
Planet Nissan – This Las Vegas auto dealer must not run deceptive ads to promote the sale or leasing of their vehicles. Now that they settled with the FTC, the dealer cannot run ads like this anymore: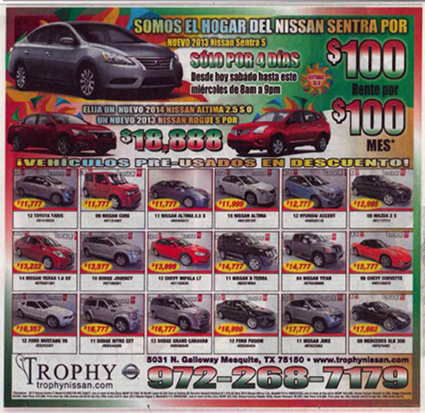 The FTC also has stopped unlawful marketing practices targeted to Latinos.
Centro Natural – This company is now banned from telemarketing and debt collection after settling FTC charges that it used Spanish-speaking telemarketers to deceive and harass Spanish-speaking people into paying debts they didn't owe.
FTC Credit Solutions – The FTC stopped in its tracks a bogus credit repair scheme, which used ads on Spanish radio to target Spanish-speakers. This company misled consumers by offering bogus services, but also by pretending to have an affiliation with the FTC that did not – and does not – exist.  
As we celebrate Hispanic Heritage Month, we want companies advertising to Hispanic consumers to know this: the FTC is on the beat. When we say we protect every community, we mean it.  And we also do some marketing of our own: we've created a series of "fotonovelas" in Spanish to help the Hispanic community know their consumer rights. Check them out at ftc.gov/fotonovela.