Kicking Back for the New Year? Just Don't Serve Teens Alcohol.
December 28, 2015
We all kick back a little during the holidays to enjoy fun times with family and friends. But having fun doesn't mean relaxing the rules – especially when it comes to teens and alcohol. If you're throwing a New Year's party – or attending one – keep the celebrations safe by keeping an eye on people under the age of 21.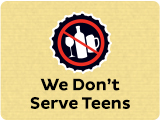 Research shows that underage drinking remains a serious health and safety problem. But you can do your part to cut off teens' access to alcohol with tips from We Don't Serve Teens, a national campaign to reduce underage drinking. The website, available in English and Spanish, offers ideas for stopping underage access to alcohol at home and in your community. There is also a list of helpful answers to common questions and assertions you might get from neighbors and friends who doubt the benefits of the legal drinking age. Want to spread the word? Then check out our free materials available to download, a map of state laws, and the rates and risks of underage drinking.
Do your part to reduce underage drinking and keep the New Year's celebrations safe. Remember that giving alcohol to anyone under 21 is illegal and irresponsible. So make sure teens aren't served, and don't have access to alcohol – and have a great New Year!